Science Magazine recently rejected an advertorial written by David Bronner, President of Dr. Bronner's Magic Soaps – a company that describes itself as "the top-selling brand of natural soaps in North America."
The reason for the rejection? The magazine was afraid of pissing off members of the GMO industry who have deep pockets.
Mother Jones tells the story of what went down:
Science was just about to collect the necessary credit card info so they could run the $9,911.00 ad… but like a neurotic, hormonally imbalanced individual out of touch with their true selves, Science changed their minds just hours later.
An ad sales manager explained: "Sorry to say there has [been] a reversal opinion. This has gone up the ladder quite far and our CEO along with the board have come back saying that we cannot accept the ad. We're concerned about backlash from our members and potentially getting into a battle with the GMO industry."
I rolled my eyes at this lame excuse on behalf of Science.
What was the big deal about Dr. Bronner's ad?
Nothing – it simply told the truth, that GMOs are increasing pesticide use in the United States.
The Mother Jones writer probed deeper into why Science rejected Dr. Bronner's ad. Mother Jones quotes the "ad-sales manager, who worked with Bronner's team on the failed ad deal. She explained that the editorial side weighs in on decisions over advertorial-style ads. Science's management found it 'a little bit controversial,' and worried that 'if we allowed that kind of a piece to be printed in Science, then maybe we'd be subject to the GMO world coming after us.' She added: 'Ironically, it's not that anyone in the organization disagreed with what it [the ad] said. It's just that we had to consider that the opposite side of the coin might want to start a war in our magazine.'"
A similar incident happened with Nature, a UK-based publication. Nature was about to accept an ad from Dr. Bronner's, only to change their mind a few days later – no explanation given.
Reminds me of a moody parent who promised to drive their kid to an ever-important basketball championship game, only to change their mind at the last minute due to a self-induced headache.
One reader nailed it in the comments section of the Mother Jones article: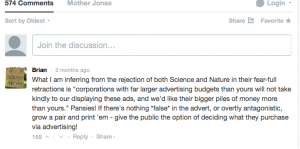 Science Magazine has shown it isn't really about science. It's about people-pleasing – particularly, pleasing the ones who scare them the most. Who would even want to advertise with them, after that debacle?
We might as well be watching The Godfather. Gangster tactics are all about fear, intimidation, and bullying. They persist only because people are afraid to challenge them.
What do you do when others are too cowardly to stand up for truth?
Luckily, you don't need to rely on advertising in order to reach more people. You simply need to create fascinating content that moves your readers and inspires THEM to do the advertising for you.
Build your content around things you own – your website, blog, and email list – so that you don't have to ask anyone's permission on anything. You won't have to deal with spineless wimps "changing their mind" on you.
My Spotlight package puts you back in power. "Spotlights" are success-based story campaigns that make it impossible for you not to turn up the volume of your truth in the marketplace. When your ads get rejected by companies that apparently have no spine, then you know it's time to ramp up your own marketing with Spotlights.