Hi, my name is Michelle Lopez!
Do you sell healthy products online? Or do you help people achieve their best health WITHOUT meds or surgery? If so, then I would love to hear from you!
An experienced copywriter and content writer, I help health-related companies motivate, educate, and inspire people through crisp, clear writing.

I write and edit email newsletters, blog articles, email promos, sales funnel copy, sales pages, Google ads, landing pages, email autoresponders, books, and more. Plus, I can help you come up with unique topics and memorable content that makes your brand shine…while increasing sales online.
If you want my help with any of the above, feel free to reach out to me.
Email me to request a small sample project, or to discuss your writing / editing / online marketing needs. I also offer a free 20-minute consultation by phone or Skype to select business owners.
~
Client Testimonials
"Sign me up for your services in 2017, Michelle! Thanks to your work we are always rocking our 7-digit biz, year after year…it's not discounts I want. It's value."
– Shane Ellison, Founder, The People's Chemist
"Bringing Michelle onto my team is one of the best business decisions I've ever made. Michelle is not only a great writer, but she knows how to write copy that sells and she understands online marketing. That is a combined skill set that is difficult to find! Michelle is able to quickly write in different 'voices' to match our various clients' styles. Our clients are constantly complimenting Michelle's work and they are incredibly grateful for support in this area."
– Amy Lippmann, Marketing Strategist for Health & Wellness Entrepreneurs
"Michelle Lopez's copywriting was instrumental in the creation of my book 32 Ways to OutSmart Cancer: How to Create a Body Where Cancer Cannot Thrive. We achieved best seller in Amazon kindle in less than 12 hours in both Alternative and Holistic Medicine and in the Cancer Category in Medicine. We also went to the top of Hot New Releases and #20 in top Non Fiction Books!"
– Dr. Nalini Chilkov, Integrative Cancer Answers
"We hired Michelle as a direct response copywriter and have been quite pleased with her ability to provide great copy. She is extremely reliable, self-motivated, and consistently delivers what she promises without ever missing a deadline. She has written sales pages, squeeze pages, website copy, autoresponders, postcard copy, and other materials for several of our clients. She is skilled at capturing different 'voices' for each client, while adhering to direct response copywriting principles. Additionally, Michelle is extremely easy to work with and highly professional."
– Megan Yakovich, Project Manager for Michele PW
Samples / Portfolio
Example of a sales page I wrote, as part of a sales funnel, using client's material and voice: www.GetPalmettoPlus.com – this is a men's natural prostate supplement. (Disclaimer: I receive a portion of all sales on this product.)
Example of a sales page I wrote for a client: www.mysafemulti.com – this is a multivitamin product that is safer and purer than any store-bought vitamin on the planet.
Example of a landing page I wrote for an organic chocolate company – www.TryHnina.com
Example of written interviews:
Books I've edited / proofread include:
~
To request a small sample project for your business, or to discuss your writing / editing / online marketing needs, contact me here. I also offer a free 20-minute consultation by phone or Skype to select business owners.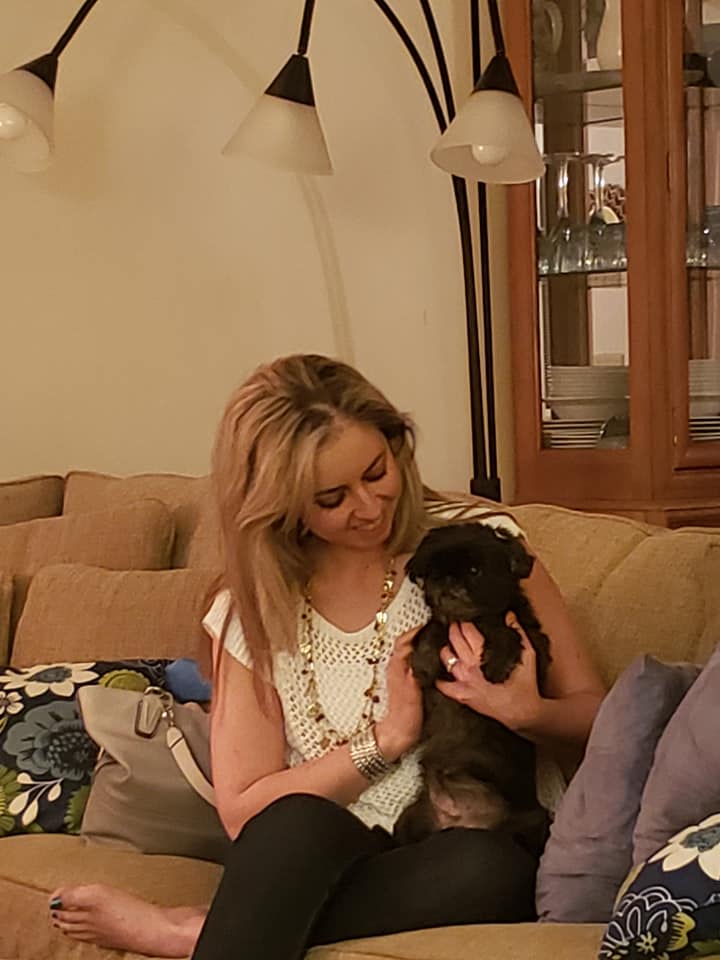 Me with my furry little friend, Chloe